"A Model World" is a research project investigating emerging techniques for climate modification, commonly known as geoengineering, explored through the lens of visual culture. It was initiated by curators Julia Kaganskiy and Juliette Bibasse in the Spring of 2021 and is ongoing.
Our research interest in the topic was inspired, in part, by several recent popular science books like Holly Jean Buck's After Geoengineering, Oliver Morton's The Planet Remade, and Elizabeth Kolbert's Under a White Sky, as well as the observation that artists are slowly beginning to venture into this space, exploring the history of human-designed climate interventions, problematizing techno-solutionist approaches to environmental management, investigating the implied material reconstitution of the atmosphere, and raising ethical questions about who these interventions ultimately benefit.
As art historian T.J. Demos points out, the notion that we are living in the age of the Anthropocene "appears to imply the necessity of geoengineering." It is therefore worth considering how this came to be, and how specific forms of representation, knowledge production, power, and desire have made the concept of engineering climate not only thinkable, but something that seems within reach (for a privileged few).
Thanks to a research fellowship from Medienwerk NRW, we embarked on a month-long residency at Zollverein UNESCO World Heritage Site in Essen, Germany this past September, hosted as part of the NEW NOW festival's artist residency program. The fellowship and residency period gave us an opportunity to delve deeper into the science of geoengineering and the critical discourses surrounding it, as well as to conduct interviews with scientists, researchers, artists, and curators whose work intersects with this subject area.
This website is the result of that residency period and represents our thinking and research to date. We invite feedback, tips, opportunities for collaboration or conversation — there is still much work to be done and we are looking forward to continuing to deepen and refine our thinking. Feel free to get in touch with us here: amodelworld21@gmail.com.
We'd like to extend a heartfelt thanks to Medienwenwerk NRW, Zeche Zollverein and the NEW NOW team for making this work possible, as well as all of the artists, scientists, cultural workers, and activists who generously agreed to meet with us or be interviewed for the project: Jasmin Grimm, Tega Brain, Karolina Sobecka, Holly Jean Buck, Sean Raspet, Michael Wang, Anke Eckardt, Katrin Hornek, James Bridle, Aude Pariset, Andreas Grenier, Marjolijn Dijkman, Fragmentin, Axel Braun, Jana Kerima Stolzer & Lex Rütten, Alain Bieber, Britta Peters, Inke Arns, Daniela Berglehn, Thomas Haas, Isabella Nardini, Amel Barich, Liv Adler, Stefan Moitra, Stefan Böschen, Gabriele Gramelsberger, Thomas Reinsch, Fabian Huebner, Antje Gerlach, Norbert Winzen, Alain Baer and all of the incredible NEW NOW Artists-in-Residence.
Julia Kaganskiy
Julia Kaganskiy is an independent curator and cultural strategist working across art, design and technology with a focus on facilitating interdisciplinary collaboration. Previously, she was the founding Director of NEW INC, the first museum-led cultural incubator at the New Museum in New York and served as the founding Editor-in-Chief of The Creators Project, an initiative of VICE Media and Intel. As a curator and strategist, she has worked with Superblue, Matadero Madrid, Science Gallery Dublin, Borusan Contemporary, Nokia Bell Labs and Mana Contemporary, among others.
Juliette Bibasse
Since 2009, Juliette Bibasse has been applying her skills to the digital art scene, creating connections and opportunities between artists, festivals & cultural actors. As a producer, she is currently the head of Studio Joanie Lemercier. Since 2016, she has been working as an independent curator for festivals and cultural institutions. Based in Belgium, she has been an active member of The Federation Wallonia-Brussels' digital arts scene. In 2019 she co-founded SALOON Brussels, an international network for women working in the arts.
Host:
Funded by:
As part of: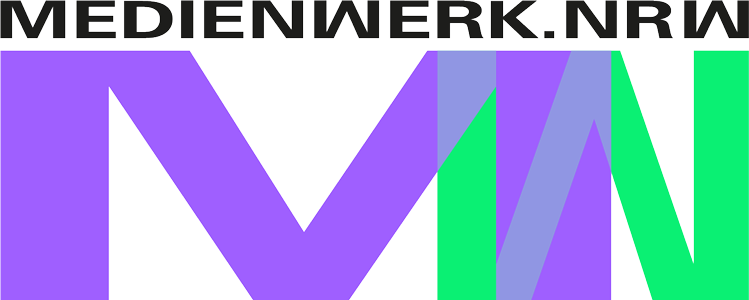 Presented by:
Funded by the Ministry of Culture and Science of the State of North Rhine-Westphalia as Medienkunstfellow, hosted by Stiftung Zollverein and presented by NEW NOW Festival